We have many people over the years who have graduated and continued their studies and practice of feng shui.  Today I'm sharing with you a guest post by Tracy Miller who's been around a long time and stays connected with the school.  I thought her post was timely for us all.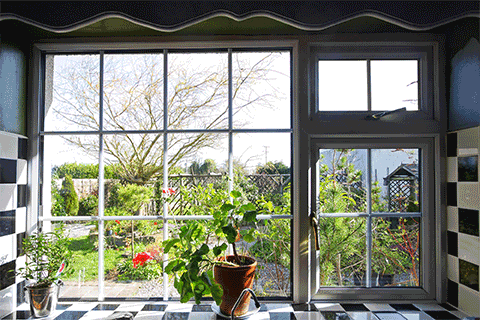 Hi Everyone,
You haven't experienced pollen until you have lived in the South. Over the years, I have gradually built up an immunity to the inch-thick yellow/green dusting that covers everything in spring–but the windows still suffer. In the afternoon when the sun beams through the western windows at the back of the house, I can almost make out the shapes of trees if I look hard enough. Yes, it's that bad. So, that's the clue that it's time for the springtime window cleaning marathon. Cue the vinegar and water bottle, and gather up the old newspaper (if you can find those anymore). Time to do battle.
In feng shui, windows are the eyes of the house. If the windows are dirty, they "cloud our view" of life. Sparkly windows just give us a better outlook on everything.  If you're feeling down, clean your windows and see if your mood improves. While cleaning, it's a good time to check for needed repairs. Do you need to replace any cracked glass or weatherproofing that is aging? If time or money is a factor in avoiding this, just take an inventory of what you will replace when you have a little extra of either. When the windows are clean and in good working order, it opens up personal vistas giving you a better view of the future.
At the same time, have a look at your doors–especially the front door. Do the hinges need oiling? If your front door squeaks every time you use it, it can affect your joints (hinges are the "joints" of the house). Just a little bit of oil can fix that problem quickly (at least for the doors). Also check that the locks are working properly and not sticking. There's nothing more annoying than locks that don't work properly when you're trying to go somewhere or get in the house.
During this time of renewal, getting the house's energy portals (windows and doors) in order is well worth the effort. With improved vision, and well-oiled joints, who knows where you might go? It could be your year after all.
Until next time,
Tracy Miller
You can check out  Tracy's blog by clicking here.
Thank you Tracy for allowing us to share your knowledge.